Oh look, how beautiful you are!!!
You were wearing a red tuxedo for me last night in my dream. You took my hand and you said "Let's dance, let's dance, my love!"
I couldn't recline, I couldn't resist.
"Let's dance, my love, let's dance!"
You were holding me tight, you were kissing my lips.
I forgot how good that felt. It has been such a long time since our last kiss. "Let's dance!" Kiss me with your bloody lips. I know your body is starving for me too.
I was wearing the pigtails for you and the blue dress with the white polka dots. No make up, I was behaving clumsy and naive, I was startled, when your hand slowly moved under my skirt.
"Spread your legs, litte girl, let me kill you!"
My arms around you, I was crying while kissing you.
You were wearing that red tuxedo, you were so close to me.
"Let's dance. Let's fuck. Let's die together. I'm gonna eat you up, I'm gonna cook you and eat you up."
Come on, come back. Love me, leave me, i want to get lost in desperation. Call me bitch, call me slut, call me little girl, hate me, love me, love me, hate me....
Aren't you beautiful? Aren't you adorable?
Wear this at our wedding.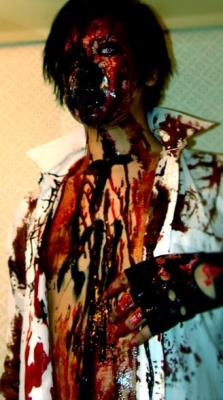 (Freitag, 9. Dezember 2011)